Prion Research Laboratory
Our lab strives to understand the molecular basis of (i) how proteins aggregate, (ii) how protein aggregates spread from cell-to-cell, (iii) how aggregates trigger protein clearance pathways, and (iv) how aggregate structure impacts spread and neuronal toxicity within the central nervous system. We focus on prion diseases, rapidly progressive neurodegenerative disorders that occur in humans and animals. Although prion diseases are relatively rare in humans, the wealth of tools available provides opportunities to understand basic aspects of protein aggregation common to other neurodegenerative diseases, including Alzheimer's and Parkinson's disease. Our team of biochemists and molecular biology experts employ biochemistry, cell biology, and genetic approaches together with simple to complex transgenic model systems. Our long term goal is translational, to develop therapies that prevent protein aggregate development and spread as well as halt disease progression at an early stage.
Lab News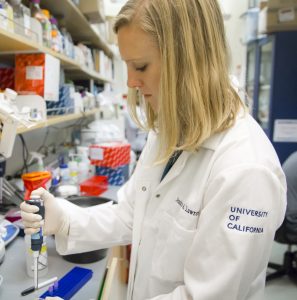 December 2020: Julia Callender presents her research on prion neurotoxicity at the American Society for Cell Biology conference.
November 2020: Patricia Aguilar-Calvo and Julia Callender present their work at the American Society for Glycobiology conference.
August 2020: Congratulations to Julia Callender for her Pathology Department Research Retreat award!
July 2020: Congratulations to Jessica Lawrence for successfully defending her PhD thesis, "Mechanisms of Prion Aggregate Spread and Synaptic Toxicity". Good luck in your new position at Genetech, Jessica!
April 2020: Helen Khuu and Joy Chen begin their Master's program in the lab.
February 2020: Welcome to the lab, Adela Malik!
October 2019: Welcome to the team, Kaylauni Cisneros!
September 2019: Jessica Lawrence is selected to present her thesis work at the Biomedical Sciences Research Retreat in Palm Springs, CA.
Welcome to the lab, Kika Funk and Jessica Tseng!
July 2019: We welcome scientist Jin Wang to the team!
August 2018: Thu and Naquiba give their oral presentations at the UCSD Undergraduate Research Symposium.
June 2018: Jaidev starts graduate school at University of Colorado.
May 2018: Christina presents a study on the neuroinvasion of fibrillar prions at the International Prion Research Conference.
April 2018: Jessica gives an oral presentation on prion spread from cell-to-cell at the Experimental Biology meeting. Way to go, Jessica! Jaidev presents a poster for the first time. Triton 5K race through UCSD campus to raise funds for scholarships.
March 2018: Christina and Patricia present at the Glycobiology Conference.
January 2018: Jaidev Bapat and Thu Nam begin independent research projects with mentors Patricia and Jessica. Ashley Dinh joins the lab.
November 2017: Christina co-chairs the Prion Disease Mini-Symposium and presents a research update at the annual American College of Veterinary Pathologists meeting in Vancouver, Canada.
September 2017: Tim Kurt's paper, Asparagine and glutamine ladders promote cross-species prion conversion, is published in the Journal of Biological Chemistry.
June 2017: Graduate student Jessica Lawrence receives an NIH F31 fellowship to study how prion aggregate spread through the brain. Congratulations Jessica!
June 2017: Taylor Winrow joins as the new laboratory manager. Ryan Jackson, Jinfang Li, Loren Lavadia, and Joshua Asiaban join the lab.
Sigurdson Lab Publications